The full story
So after yesterday's pathetically brief post I shall now fill in the gaps. The job interview was for a post as a library assistant, which is something I have always wanted to do. The interview went well, but there was a literacy test afterwards and the heat had obviously addled my brain and I made a few mistakes. I should be hearing about it in a few days, so will let you all know if I get it.
The knitting injury is a problem with the ring finger on my left hand. When I knit socks I balance the needles on this finger (hard to describe, I may try and take a photo to explain what I mean) and I am getting achey pains in the finger, simiar to RSI style pain. I'm knitting a few rounds at a time rather than working on it solid for a few hours in one sitting and this seems to be helping, although my progress is slower than I want. The socks
have
to be ready by Friday, and I've only just got about a third of the way down the leg of the second sock. There may be some panicking about this as the week goes on.
The two books I got delivered were
Mason Dixon Knitting
and
Knitting on the Edge
. I absolutely love MD Knitting - it's not filled with truly unique, breathtaking patterns, but is a treasure trove of ideas, inspiration and fills you with confidence to find your own knitting style. I also like the fact that the majority of the patterns are for the home, an area of knitting that doesn't seem to always get the attention it deserves.
I already own
Knitting over the Edge
and so was expecting good things of its predecessor and I wasn't disappointed. This book has an entire section devoted to ruffles - how cool is that?! I think this is a better book than "over the edge" for me, as there are more edgings that I would want to incorporate into my knitting.
And I also got my
posh sock club
yarn today - the first lot never arrived and so
Dee
dyed some more for me. She also said she felt bad about it not arriving so sent me 100% cashmere instead of the usual sock yarn! This shop has amazing customer service, and I really can't recommend it enough. The colour is called carnival and is a lovely mix of purple, pinks and oranges. Very scrummy!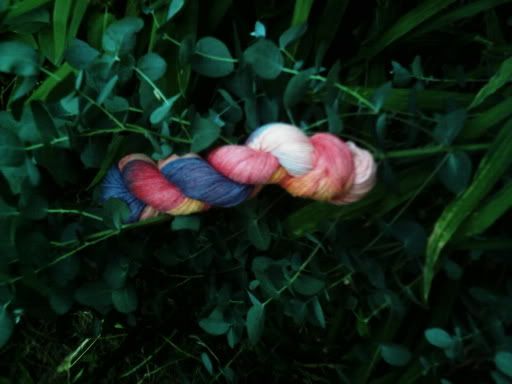 As I mentioned yesterday, I have been starting to think about breaking out from slavish pattern following and designing garments for myself. I have several ideas, but I figure I'll post more about them and ask for loads of advice once I've finished the current WIP's :)