One skein + 2 hours = a F.O!
I had a new fireplace fitted today, and as I live in a tiny house I thought I'd better go and sit in my garden whilst the guys were working. Unfortunately my garden offers little in the way of entertainment so I had to find a way to amuse myself. I thought about doing the other pocket for the dress, but I need to concentrate for intarsia so I thought I'd better do something simple. I bought a skein of
Colinette tagliatelle
from my LYS on Wednesday (no comments about yarn diets, please!) and decided I'd make a start on Aurora from
Jelly Allstars
. I didn't bother with a swatch, and just cast on, laughing at my recklessness (I know how to live dangerously!). Amazingly enough, after a couple of hours it was totally finished and despite my gauge nonchalence it fits the little badger perfectly. Looky: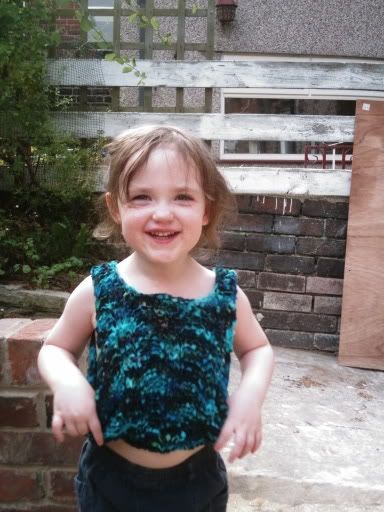 And check the smile - she actually likes it!
In sock knitting news I got an e-mail from Dee today, saying that the next posh yarns sock club wool has been sent - I can't wait!
And to answer Lyonheart's question, the polly pocket dress is from this book. It's a lovely and easy pattern but head bangingly dull to knit ;)