Cackle cackle
"When shall Badger knit again, in thunder lightenining or in rain?"
In all three actually! The weather has turned and the knitting mojo has returned at last. So much knitting, yet so few photos. There will be proper pics next post (honest!).
Anyway, it has been another mail filled week in the Badger sett, and first up was the new Rowan mag. I've been feeling less and less inspired by the Rowan mags over the last few years, so wasn't expecting great things from this one, but I was so wrong - it is excellent! There are ten different garments that I would love to make and only a few that have me reaching for the puke bucket (Murmansk braces anyone?!). I actually already have the kid classic needed to make Eva and so am thinking of making that my next me-sized project. However, the one that leaps out at me, grabbing me by the needles and whispering seductively "Knit me" is Lorelei.
This is the most beautiful sweater I've seen in a long time and I want it now! However, as my fairisle skills are currently non-existent and I don't have the yarn in stash this will not be being made in the immediate future. However, I have already formulated my Lorelei plan and strategies. Firstly I need to learn how to knit fairisle. I've found a pattern for a simple kiddies hat and will knit that as a practice piece. Then comes the money/wool issue. I'm going to demand that Father Christmas brings me the yarn for this for crimbo and so I shall start being a lot nicer and try to cut down on the naughtiness from now until December in the hope that I will get what I want. Sorted!
I also got my posh yarns sock yarn this week. The colour is confetti and very pale and girly. I think I like it, but as it's not 'my' colours, I'm not gushing over it. I think a simple lace pattern would work well with this, what do you think?


I also joined the posh yarns lace club and got the first skein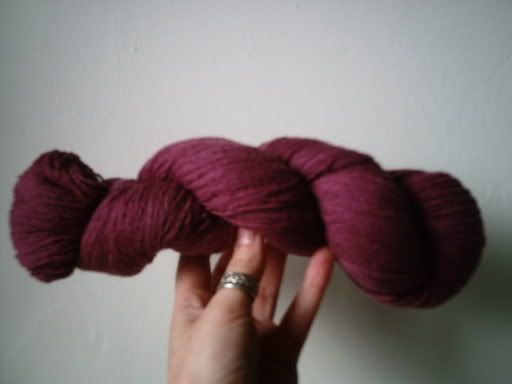 I love the colour, and it is a wonderfully soft blend of cashmere and angora. The only quibble I have, is that apparently members of the lace club are being sent different yarn blends of laceweight. I asked Dee, the owner of posh yarns, about this, and she said that it was because people from varying countries tended to order different yarn blends to each other. This seems reasonable, except that Dreamcatcher mentioned on the AY forum that she got pure silk. Now, last time I went to Lancashire I didn't think it was a different country! Dee has said that all members will receive the same value of yarns over the course of the membership, but she hasn't said that all members will receive the same yarns but just in a different order. There seems a big difference to my mind between the same yarns and same value of yarns - I'll wait and see what happens with the next shipment before deciding whether to be a grumpster about it ;)