No sex please, I'm dieting
Well, I went to the open day at
Angel Yarns
on Sunday and bought a couple of goodies.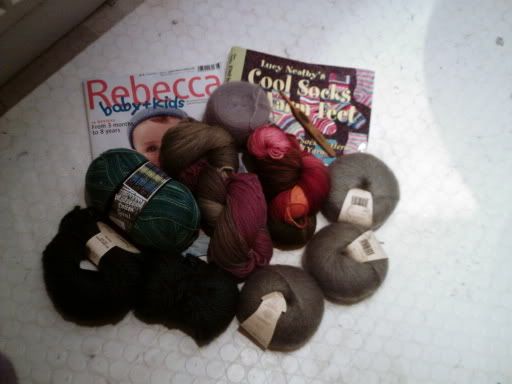 There are two balls of DB alpaca silk (the colour is lighter than on the photo, a nice teal shade), a ball of Lana Grossa sock yarn, AY hand dyed sock yarn, Lucy Neatby Celestial Merino (colourway sugar maple), AY 4 ply angora, 3 balls of KSH (again, the colour is not really accurate, it's a very pale greeny grey), Rebecca baby and Kids, "
Cool socks, Warm Feet
" by Lucy Neatby and a crochet hook!
I'm now on a yarn diet until the Knitting and Stitching show at Ally Pally (stop sniggering, Pictish) and so am going to be knitting from stash.
The first stash project is the Polly Pocket dress from "
Miss Bea's Seaside
" book. It's knitted in Rowan Denim, whichI've never used before. I got gauge straight away, which is nice, but am not really enjoying it so far. The denim is rough and splitty and the dye that comes off on to my hands is irritating me, even though it washes off easily. The pattern is dull as dishwater and if it weren't for the fact that Baby Badger has expressed an interest in having the dress (I want it, mummy. Knit it me!), I'd have probably abandoned it before now. Sigh.
And those little baby knits I mentioned in a previous post can now be revealed, as they have both been gifted.
The pair on the left are made from the leftovers of the posh sock yarn, hothouse colourway and the other pair are knitted from Regia but I've lost the ballband and can't remember the what the colour's called (muppet that I am)!